Punjabi singer, model and ex-Bigg Boss participant Himanshi Khurana left no stone unturned on Tuesday to blast Kangana Ranaut over latter's highly insensitive remarks about the ongoing Agriculture bill issue because of which most farmers across the nation are holding protests.
Lashing out at Kangana, Himanshi said, "You ('Kangana) were an inspiration once. But that doesn't mean that you keep saying anything to the innocent farmers on the road. When your office was demolished, you were hurt. If you can talk about the injustice meted out to you by Bollywood – then why can't the farmers do the same?"
Further the Bigg Boss 13 housemate stated in her tweet, "We, as artists, earn easy money. We are no more fighting for a square meal. But still you try to feel that if after making one movie, the expected returns don't come, then how much it hurts. You also know no film goes into a complete loss ever. Farmers struggle for so many months, wait and still they don't get the right value of their produce."
Lastly at Kangana Ranaut's 'terrorist' remark about the farmers, Himanshi Khurana said, "Farmers are our 'Ann Daata'. They are Gods – not, Terrorists. If there's no food, then what is the use of the luxury we have. Farmers are struggling for their three time meal not for luxury. So they are not terrorists if they are protesting."
Further, Himanshi Khurana also gave a befitting reply to a troller who said that if Himanshi really cares for the farmers, she should go out and stand with them on the roads instead of tweeting from an Air-conditioned room.
To this Himanshi said:
What Had Kangana Ranaut Tweeted:
https://twitter.com/KanganaTeam/status/1307946243339907072
https://twitter.com/KanganaTeam/status/1307957044075311105
Himanshi Khurana's Series of Replies to Kangana Ranaut's Terrorist Tweet
https://twitter.com/realhimanshi/status/1308059998702825472
https://twitter.com/realhimanshi/status/1308062072110870528
https://twitter.com/realhimanshi/status/1308062719254253568
Incidentally, Himanshi Khurana's replies to Kangana Ranaut come a day after Ranjit Bawa's replies to Kangana who, too, gave a piece of his mind to Kangana. Kangana Ranaut was so angered by Bawa that she ultimately, blocked him on Twitter.
Further, Kangana's fans trolled Bajwa for not understanding the context of Kangana's tweet. He was even called unlettered by a fan of Kangana and ridiculed for not being able to understand Kangana's tweet.
Click here to know what Ranjit Bawa had said to Kangana
It may be recalled that Himanshi Khurana is a Khalsa-aid activist and she regularly involves herself in social works. From Rohingya to Punjab flood victims, Khurana has never stayed behind in reaching out to those in need through her various philanthropic acts.
So it's not a surprise to see a Tweet pinned on her profile which clearly mentions the fact that she's a Khalsa Aid supporter and supports the farmers. Take a look at the poster that she's pinned on her profile.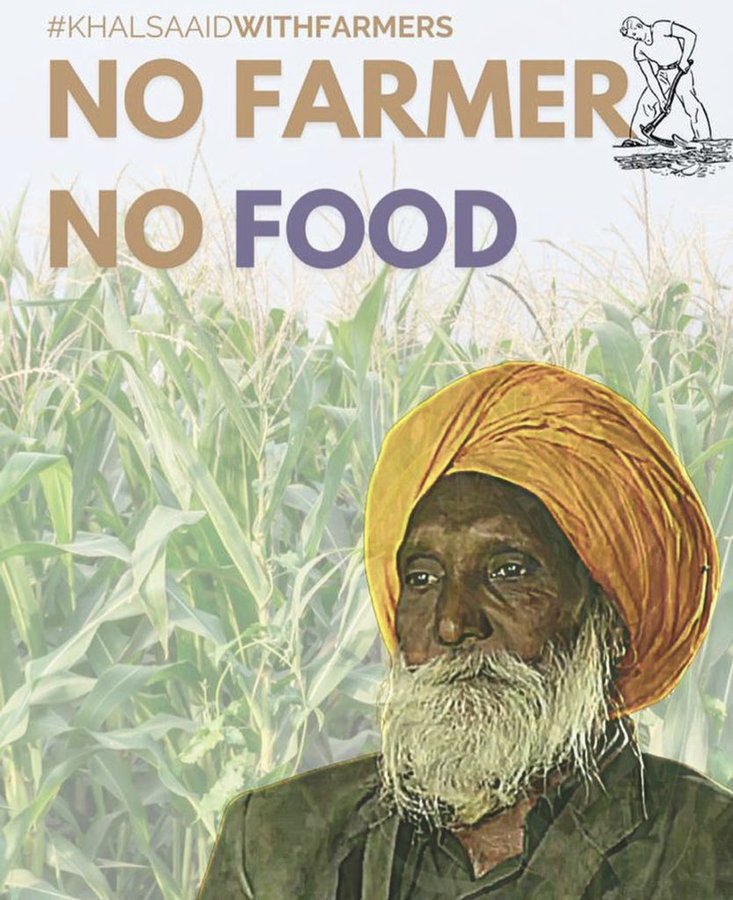 On work front, Himanshi Khurana is these days promoting her song, Allah Khair Kare sung by Saajz and directed by Sandeep Sharma.
What do you think about Himanshi Khurana's stance on the farmers' issue? So far almost every top Punjabi artiste has come out in support of farmers including Ranjit Bawa, Gippy Grewal, Sonam Bajwa, Jazzy B, Ammy Virk, Diljit Dosanjh and many more.
To stay in touch with the latest Punjabi entertainment and lifestyle industry updates, do subscribe our channel: {module [429]}
{module [522]}