While Bollywood actor Sushant Singh Rajput's alleged suicide has shaken the core of Bollywood industry leading to debates on nepotism and millions of fans boycotting several noted film personalities, circumstances within Punjabi film industry also seem to be taking a sad turn.'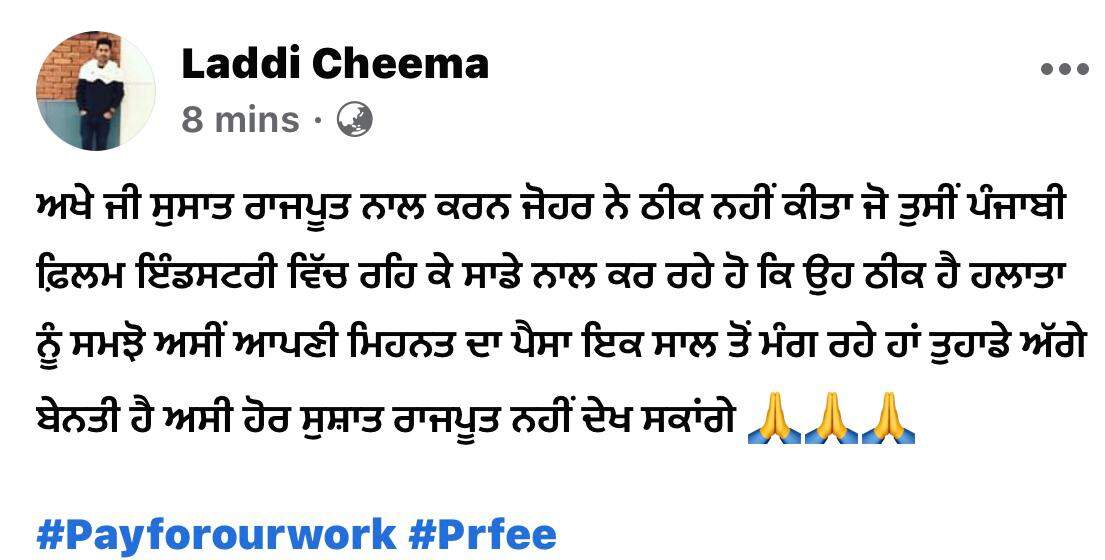 Translation: 'What happened with Sushant Singh Rajput was really sad, but what the Punjabi industry is doing to us, is that correct? We are asking for our hard-earned money for the last one year. We are requesting (referring to those who owe him money), to please pay us our dues. No one will be able to see more Sushant in the industry.'
A recent Facebook post made by a noted Pollywood publicist – Laddi Cheema – has highlighted the dismal conditions in which a lot of people working for the industry, are right now currently.
According to Laddi Cheema's post, before people in Punjab also begin taking their own lives like Sushant did, the filmmakers in Punjab must wake up from their slumber and pay to those who worked for them for years.
In a chat with Cheema, he revealed to Iampunjaabi.com that there are some producers in our film industry, who keep getting work done from various publicists, promoters and PR companies, promising them to pay after the film's release.
A lot of his dues are pending since years but those producers have totally stopped responding now.
He also said that such people work like they're your family when their movie is yet to release and take a complete U-turn when it comes to making payments.
Without naming anyone, Cheema hinted that some of these producers are the so-called big-shots in our industry.
While nepotism isn't currently evident in Punjabi film industry, the groupism, unprofessionalism and pulling each other down using unscrupulous means aren't uncommon here. Will the current circumstances open up a series of debates in Pollywood too, that's something one has to wait and watch!
What do you think about this story? Do let us know on our Facebook page. '
{module [522]}
{module [429]}